Donation to MyCakeDeco Club
Your contributions mean a lot to us. Click
here
to find out how you could help the continuity of this forum.
Latest topics
»
MCDC Year End Party
by
Inamohde
Tue Dec 14, 2010 9:12 pm
»
MCDC Meet #10 at the Academy of Pastry Arts Malaysia
by
Alannia
Mon Dec 13, 2010 11:19 am
»
Jo, our admirer
by
sharanspice
Tue Nov 02, 2010 10:05 am
»
MCDC Meeting Rescheduled - All Members To Note
by
Jo
Wed Sep 22, 2010 7:19 pm
»
MCDC Meet #9 - A Vegetarian Themed Gathering
by
molly
Sat Jul 24, 2010 1:55 pm
»
how long does a orange butter cake can last???
by
deepavic
Tue Jul 20, 2010 7:45 pm
»
MCDC Meet #8 - We will be at Pastry Pro this time!!!
by
louis
Thu Jun 17, 2010 12:38 am
»
MCDC on Kuali
by
TraceyChooi
Tue Mar 23, 2010 11:55 am
»
Festivities Cookie Decoration Contest 2010 Entrants - RESULT
by
beginner
Sat Feb 13, 2010 3:57 am
»
MCDC Meet #7
by
Jo
Fri Jan 29, 2010 4:08 pm
»
Festivities Cookie Decoration Contest 2010
by
Najat Ahmad
Sat Jan 16, 2010 10:10 am
»
Garage Sale at MCDC Meet #7
by
Jo
Thu Jan 14, 2010 5:19 pm
MCDC will be having its 3rd Get-Together in March. We are honoured this time to have Ambika hosting the event. It will be a Hi-Tea this time. Details as follows:
Date
: 7th March 2009, Sat
Time
: 3pm - approx 5.30pm
Venue
: Ambika's home at Jln Ipoh. Location map to be advised later.
Token of sum:
RM 30 per person
The fun rules:
Reservation of seats based on first come first basis.
Priority
will be given to MCDC
members
.
Non-members
are welcomed to leave your name at the
waiting list
. Please check back the forum for seat availability closer to the get-together date.
Interested? Please leave your name in
this post
.
Activities
:
1. Ambika, who is a yoga teacher, will be showing all ladies a breathing exercise which is claimed to make us look younger!!!!! How could we miss this huh?
2. Our Mama Min has always been known for her fantastic figurines. We are honoured to have her demonstrating on the
techniques of Figure Modeling
. Mama Min will be demonstrating the techniques on how to model male and female figurines.
3. Wanna taste how vegetarian food and snacks can be as tasty? Don't miss the tea session served by our lovely host, Ambika. TIA Ambika!
Things to note and bring
:
1. Yourself with anticipation to share and learn from each other.
2. Notepad and pen to take down notes during demonstration.
3. As MCDC Club is a non-profit club, it survives on contributions from its members. The proceeds from the collection of token will be used for the upkeeping of the MCDC Forum (for hosting web space and future upgrading if needed) and its future activities (like renting room for activities, ingredients costs for demonstration, getting utensils and stuff for our parties, etc....).
Since this will be on weekend to cater for working crowd, we hope to see more new faces in our upcoming gathering.
Any queries or comments, please do not leave here but at
this post
.
Thanks and hope to see you soon.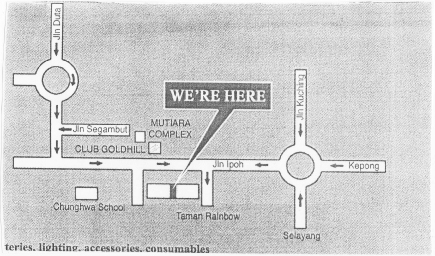 Address:
Art of Living Centre, 18-1 Alpha Complex, Rainbow Garden, 4th Mile Jalan Ipoh. KL.
Direction:
Its a straight drive from the Dynasty Hotel, landmarks to look out for is the Ipoh Road School on the left, Hyundai showroom, Mutiara Complex, after complex go staight at traffic lights 50yds from traffic light, look out for white building on the right, turn right and get into the parking lots.
_________________
Faith sees the invisible, believes the incredible and receives the impossible..................
---
Permissions in this forum:
You
cannot
reply to topics in this forum