Donation to MyCakeDeco Club
Your contributions mean a lot to us. Click
here
to find out how you could help the continuity of this forum.
Latest topics
»
MCDC Year End Party
by
Inamohde
Tue Dec 14, 2010 9:12 pm
»
MCDC Meet #10 at the Academy of Pastry Arts Malaysia
by Alannia Mon Dec 13, 2010 11:19 am
»
Jo, our admirer
by sharanspice Tue Nov 02, 2010 10:05 am
»
MCDC Meeting Rescheduled - All Members To Note
by
Jo
Wed Sep 22, 2010 7:19 pm
»
MCDC Meet #9 - A Vegetarian Themed Gathering
by molly Sat Jul 24, 2010 1:55 pm
»
how long does a orange butter cake can last???
by deepavic Tue Jul 20, 2010 7:45 pm
»
MCDC Meet #8 - We will be at Pastry Pro this time!!!
by louis Thu Jun 17, 2010 12:38 am
»
MCDC on Kuali
by
TraceyChooi
Tue Mar 23, 2010 11:55 am
»
Festivities Cookie Decoration Contest 2010 Entrants - RESULT
by beginner Sat Feb 13, 2010 3:57 am
»
MCDC Meet #7
by
Jo
Fri Jan 29, 2010 4:08 pm
»
Festivities Cookie Decoration Contest 2010
by
Najat Ahmad
Sat Jan 16, 2010 10:10 am
»
Garage Sale at MCDC Meet #7
by
Jo
Thu Jan 14, 2010 5:19 pm
MCDC will be having its 4th Get-Together in May. We are honoured this time to have Margaret hosting the event. It will be a Hi-Tea this time. Details as follows:
Date
: 16th May 2009, Sat
Time
: 3 - 6 pm
Venue
: Community Hall at Jasmin Tower A, SS2. Location map as below
Token of sum:
RM 30 per person
The fun rules:
Reservation of seats based on first come first basis.
Priority
will be given to MCDC
members
.
Non-members
are welcomed to leave your name at the
waiting list
. Please check back the forum for seat availability closer to the get-together date. Members are required to
log in
to put down your name. Reservation for other members are
not allowed.
Interested? Please leave your name in
this post
.
Activities
:
1. Yuha will be demonstrating on how to make a
pull-apart cake
out of cupcakes. If you are not familiar in how a pull-apart cake or cupcake cake looks like, there are many pull-apart cake projects done by our members here on the forum. Just hop on to the Cupcakes, Miniatures and Cupcakes section under Cake Decorating Showcase of the forum
2. Homemade food specially prepared by our dear Margaret. MCDC will also be catering other food too. So, no potluck is required. Just bring yourself.
3. Members meeting on upcoming activities.
Things to note and bring
:
1. Yourself with anticipation to share and learn from each other.
2. Notepad and pen to take down notes during demonstration.
3. As MCDC Club is a non-profit club, it survives on contributions from its members. The proceeds from the collection of token will be used for the upkeeping of the MCDC Forum (for future upgrading if needed) and its future activities (like renting room for activities, ingredients costs for demonstration, gifts for demonstrators, getting utensils and stuff for our parties, etc....).
Since this will be on weekend to cater for working crowd, we hope to see more new faces in our upcoming gathering.
Any queries or comments, please do not leave here but at
this post
.
Thanks and hope to see you soon.
Map and details:
Due to shortage of visitor parking, please park your cars at the roadside outside of Jasmin Tower. Let the guides know that you are attending the MCDC function, they will let you in without having to sign in. Head to Jasmin A's lobby. Turn right at the lobby and look for the community hall. Margaret will be there early to greet everybody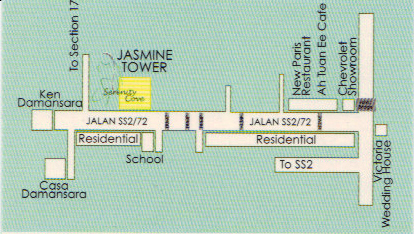 Last edited by Jo on Mon Apr 06, 2009 5:06 pm; edited 1 time in total
i am LOST even with this map. pls help
Will call you nearer to the date to give you direction verbally. Not difficult, just further down from Section 14, PJ.
Date
: 16th May 2009, Sat
Time
: 3 - 6 pm
Venue
: Community Hall at Jasmin Tower A, SS2. Location map as below
Token of sum:
RM 30 per person
Details of activities are
here
.
1. Jo
2. Eunice
3. Inn
4. Puteri
5. Anu
6. Michelle (forngpeng)
Waiting List (for non-members):
1.
I believe you post it in the other thread, dear!
Opps... sorry!! Do it again now.... hehe
no problem! Look forward to meeting you
Similar topics
---
Permissions in this forum:
You
cannot
reply to topics in this forum