Donation to MyCakeDeco Club
Your contributions mean a lot to us. Click
here
to find out how you could help the continuity of this forum.
Latest topics
»
MCDC Year End Party
by
Inamohde
Tue Dec 14, 2010 9:12 pm
»
MCDC Meet #10 at the Academy of Pastry Arts Malaysia
by Alannia Mon Dec 13, 2010 11:19 am
»
Jo, our admirer
by sharanspice Tue Nov 02, 2010 10:05 am
»
MCDC Meeting Rescheduled - All Members To Note
by
Jo
Wed Sep 22, 2010 7:19 pm
»
MCDC Meet #9 - A Vegetarian Themed Gathering
by molly Sat Jul 24, 2010 1:55 pm
»
how long does a orange butter cake can last???
by deepavic Tue Jul 20, 2010 7:45 pm
»
MCDC Meet #8 - We will be at Pastry Pro this time!!!
by louis Thu Jun 17, 2010 12:38 am
»
MCDC on Kuali
by
TraceyChooi
Tue Mar 23, 2010 11:55 am
»
Festivities Cookie Decoration Contest 2010 Entrants - RESULT
by beginner Sat Feb 13, 2010 3:57 am
»
MCDC Meet #7
by
Jo
Fri Jan 29, 2010 4:08 pm
»
Festivities Cookie Decoration Contest 2010
by
Najat Ahmad
Sat Jan 16, 2010 10:10 am
»
Garage Sale at MCDC Meet #7
by
Jo
Thu Jan 14, 2010 5:19 pm
After a short break, MCDC Get-Together is back in action. Come join us!
FUN RULES just in case you have forgotten from our previous meet:
FUN RULE 1:
All members must
LOG IN
and put down their names in
this thread
. Reserving seats for others is
NOT ALLOWED
.
FUN RULE 2
: Non-members wil be put on waiting list and allocation of seat is subject to confirmation 2 days before the event. Please check seat availability at the forum 1-2 days before the event.
MCDC Meet #6
Date
: 24th Oct, 09 (Sat)
Time
: 3 - 5 pm
Venue
: Jasmine Block A, Jasmine Tower, SS2, PJ
Fee
: RM 40
Agenda:
1. Dr Aliza Jamaluddin, a GP at the Selangor Hospital and her clinic will be giving a talk on the current H1N1 pandemic outbreak. Apart from this, Dr Aliza will also be touching on topics on Food Hygiene and Food Handling, which are very much relevant to us the bakers and the cake decorators.
2. Yoke Moy, a member of MCDC and a Wilton Method Instructor will be demonstrating on how to create her signature life-like gumpaste flowers. Details to follow.
3. As usual, light food and beverage will be served.
4. Members are encouraged to bring your Raya cookies for everybody to savour
.
Kindly leave your names
here
.
Map and directions
:
Due to shortage of visitor parking, please park your cars at the roadside outside of Jasmin Tower. Let the guards know that you are attending the MCDC function, they will let you in without having to sign in. Head to Jasmin A's lobby. Turn right at the lobby and look for the community hall. Margaret and the moderators will be there early to greet everybody.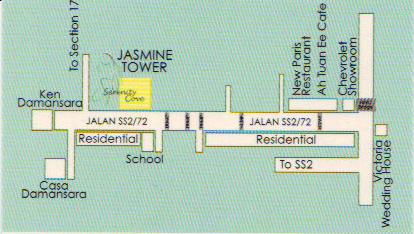 Bump this up again. Please remember to bring yout Kueh Raya cookies to let everybody savour ok
Similar topics
---
Permissions in this forum:
You
cannot
reply to topics in this forum